Timber is becoming more and more common as a building material, but the pace of development varies from country to country. Markku Karjalainen, professor of architectural construction at Tampere University, tells that environmental concerns are the biggest reason behind the increased popularity of timber frame buildings and wooden surfaces, but it is not enough – it is also important to ensure the competitiveness of different solutions and the development of competence.
WHAT IS TIMBER CONSTRUCTION?

Having been used as a building material for centuries, timber is rapidly gaining popularity in different parts of the world. Timber construction is talked and written about a lot, but what does it actually mean?

As a construction industry term and in statistics, timber construction refers to buildings and structures with a load-bearing frame made of timber. Such solutions include solid log structures, CLT elements and various types of column, beam and platform frame solutions. They are suitable, for example, for the following uses:
Apartment buildings, low-rise residential buildings and holiday homes
Commercial and office buildings, halls and arenas
Bridges, pedestrian bridges and noise barriers
In addition, timber is used in diverse ways on the surfaces of buildings and structures, including interior panels, fixed furnishings, external cladding, balconies, terraces, fences and visual barriers and other yard structures.

The surfaces of a timber frame building can be made of other materials and, similarly, a building with a stone or steel frame can have wooden surfaces. Hybrid solutions combining different materials are suitable for both frame structures and surfaces.

In terms of different types of wood, both pine and spruce are suitable for frame structures. On facades and other structures exposed to the weather, spruce and larch are more durable than pine. In addition to softwood, birch and other types of hardwood are well suited for interior surfaces and furnishings.
AN ENVIRONMENTALLY FRIENDLY MATERIAL AND INCREASED WELL-BEING

The use of timber in construction is promoted for many reasons. The most important ones are to do with combating climate change, promoting sustainable development and a circular economy as well as improving resource efficiency and energy efficiency in construction. Wood sourced from sustainably managed and certified forests is an environmentally friendly choice.

Not only is it a renewable and often local natural resource, it is also a light and recyclable material that efficiently absorbs carbon dioxide from the atmosphere. Therefore, the increased use of timber in construction is justified. The more wood a building contains, the more it helps combat climate change. While growing, a tree absorbs approximately one tonne of carbon dioxide per cubic metre, in other words approximately 250 kg of carbon throughout the duration of the building's life cycle.

As buildings are made for people and human activity, the choice of building materials used also has an impact on the comfort, safety and healthiness of living and working environments. In 2017, the Finnish Ministry of the Environment conducted a resident survey that covered 585 timber apartment buildings. According to the survey, people consider timber to be a pleasant and calming material.

Timber materials are also associated with pleasant acoustics and sound insulation, suitable indoor air humidity and, in terms of pine, antibacterial properties. Correctly built solid timber buildings are airtight, yet hygroscopically breathable and they help to even out the variations in indoor air humidity. Wooden surfaces are very durable, but they are not completely maintenance-free. Then again, neither is any other building material.
CHANGES IN BUILDING REGULATIONS PROMOTE THE USE OF TIMBER

In the EU and EEA, buildings must be designed in compliance with the design standards based on the Eurocodes, supplemented by national guidelines. These standards and guidelines cover the use of different building materials in detail, including wood products. It is possible to apply for a CE marking for products that fall within the design parameters. A CE marking is required for construction products.

Environmental values related to timber buildings influence the objectives and regulation of construction. The rapid development of wood products as well as the development of competencies in terms of hybrid construction using different materials have enabled many countries to change their building regulations, allowing for taller buildings to be built with timber frames. The standards are, however, interpreted in different ways in different countries and areas, for example with regard to the fire regulations and sound insulation requirements.

The development of CLT modules has, in particular, boosted the construction of timber frame apartment buildings, as they can be built remarkably quickly using modules. In terms of costs, timber construction is a competitive alternative. However, the costs are distributed differently from concrete construction. The share of design costs is higher, while the construction process is significantly quicker because there is no need to prepare for expensive alteration work during the construction phase when using the module technology.

Other benefits of modular construction include the certainty regarding construction costs and the length of a building's estimated life cycle. This is essential, irrespective of whether the client is a public entity or a private party.
TIMBER BUILDINGS ARE SAFE

Fire safety is a key element in all construction projects, regardless of the material. Buildings must withstand a fire, without collapsing, for long enough that an evacuation is possible. In spite of many preconceptions, timber is a safe material because its behaviour in a fire is well known and plans can be made based on facts. A timber frame building can withstand a fire for a long time without collapsing because the charring of surfaces protects the structures from the fire.

The same fire resistance requirements apply to both timber frame buildings and other similar buildings. In Finland, all timber buildings with more than two storeys must be equipped with an automatic sprinkler system. Sprinkler systems are not, however, required in all countries. The spreading of fire can also be prevented by structural means.

In addition, visible wooden surfaces can be protected in accordance with the building regulations to achieve fire class B-s1, d0 based on the Euro classification. In order to ensure the impact of wooden surfaces on improving well-being, they should be protected with an environmentally friendly and certified low-emission fire retardant, for example the NT DECO which is available in numerous tones.
TIMBER CONSTRUCTION INCREASES AT ITS OWN PACE IN DIFFERENT COUNTRIES

Traditionally, the share of timber frame buildings has been large in North America and it is also increasing in Central Europe, especially in France, Germany, Switzerland and Austria as well as in Sweden. The same trend can also be seen in Japan and even China. In Sweden, for example, there are over 20,000 apartments in timber buildings and one in five new apartment buildings is being built using timber.

Timber buildings absorb carbon dioxide and are made using renewable resources. They are also energy efficient and pleasant for the users. In many countries, increasing the amount of timber buildings is taken into consideration when setting the national construction objectives. As building regulations and new construction methods are being developed, experience has shown that well-planned timber construction is quick and safe with costs remaining under control.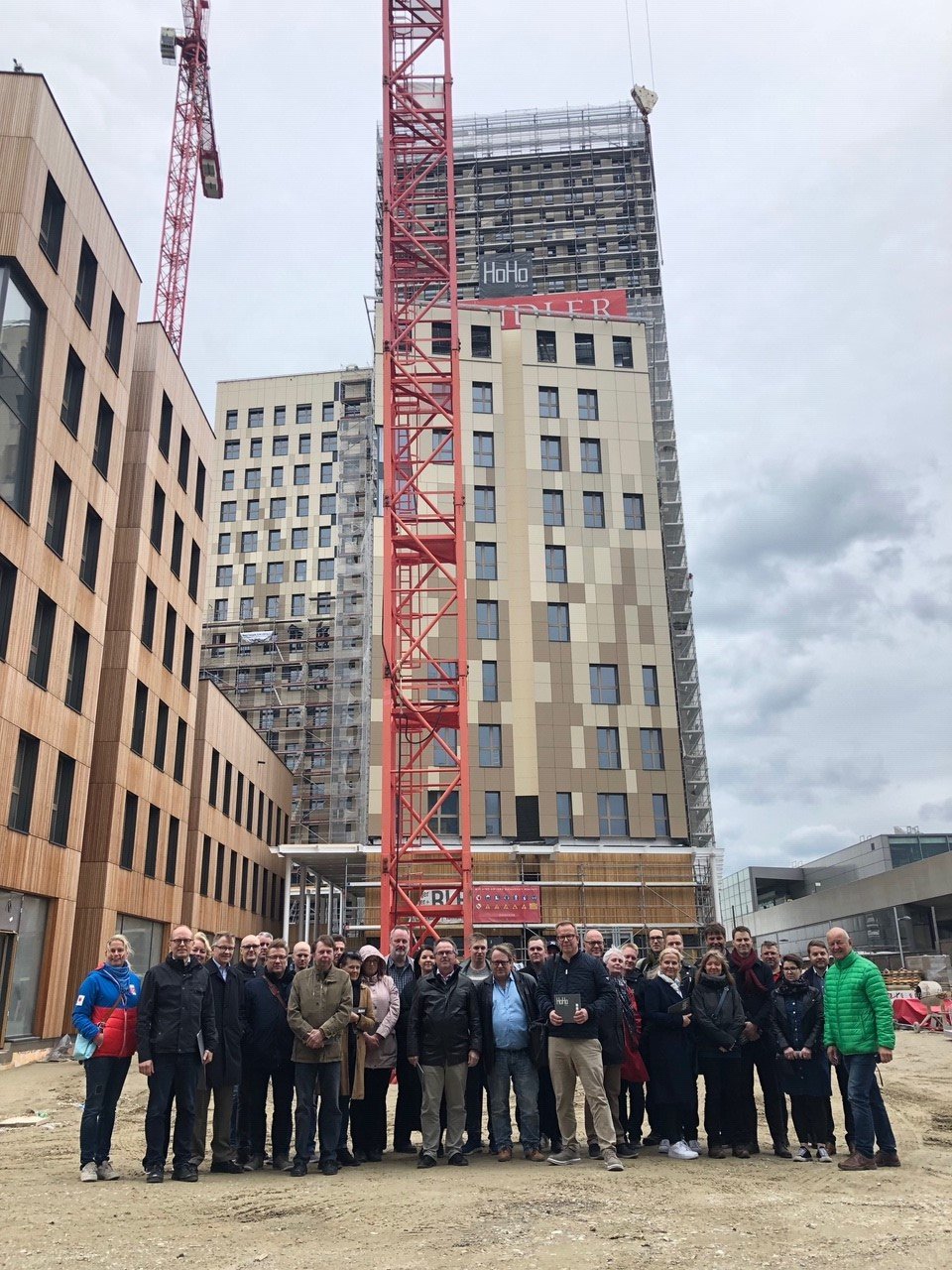 In May 2019, a group of Finnish timber construction experts visited the construction site of HoHo Wien, a 24-storey timber high rise in Vienna, Austria. 75% of the hybrid building is timber and the rest is concrete and steel. Photo: Mikko Viljakainen, Puuinfo Oy


It does take time to replace traditional methods, as it requires new kinds of design competencies and, in addition, construction companies have to reform their building processes. However, progress will not stop. In France, the state controls the construction industry by requiring that 30% of all construction work must use timber by 2030. One of the objectives in the new Finnish Government Programme published in May 2019 is to double the use of wood in construction.

The social value of timber construction is strengthened by the fact that wood is often sourced from local forests. The timber product industry provides jobs and the constant development of technologies increases intellectual capital. In many countries, both governments and local administrations as well as the industry are campaigning to promote cost-effective timber construction.

OPPORTUNITIES FOR INNOVATIVE ARCHITECTURE

The ways in which timber can be used in construction are almost limitless. The light natural material is easy to work with and pleasing to the eye as it can be used for creating a variety of surfaces, in addition to frame structures. Solutions using different types of wood open up possibilities for designers: timber can be glued, bent, perforated and tinted as well as combined, for example, with glass, stone and steel.

In public buildings such as schools, day care centres and care facilities, the use of calming timber has already become popular. In infrastructure construction, timber is well suited for bridges and noise barriers. Timber can be used for creating large and impressive buildings such as sports arenas, libraries, churches and museums.

In terms of volume, the greatest growth potential lies in the construction of timber frame apartment buildings. Timber is also an excellent material for apartment building renovations and extensions in suburban areas, including additional thermal insulation to improve energy efficiency as well as additional floors.

In low-rise buildings, the use of timber varies from one country to another: in countries dominated by forests, detached timber houses and holiday homes are quite popular already. In Finland, for example, the use of timber for low-rise buildings is not expected to increase much, as approximately 85% of them already have a timber frame. For holiday homes, the figure is 99%.

COMPETENCE DEVELOPMENT ENSURES COMPETITIVENESS

As urbanisation increases, people want to live in pleasant timber apartment buildings and they also want wood to be visible on building surfaces. According to Markku Karjalainen, the competitiveness of a timber frame is most effective in buildings with less than eight storeys, although taller buildings have been and will be built. At the moment, the world's tallest timber frame building is the 18-storey high rise in Brumunddal, Norway, standing 85.4 metres tall. In Austria, a 24-storey timber building known as HoHo Wien is currently under construction.

Careful design plays a key role in the process. The use of timber in construction has been well received by architects and they have shown that even just one individual can influence outdated attitudes. As the modular technology used in timber construction is developing rapidly, construction companies also have to invest in competence development.

Timber construction is beneficial for both people and the environment, but maintaining the growth, competitiveness and competencies requires close cooperation between the authorities, developers, designers, builders and the construction industry both locally and internationally.