A FLEXIBLE AND NEW KIND OF HOTEL-OFFICE HYBRID FOR THE CHANGING NEEDS OF WORK AND TRAVEL
Valo Hotel & Work in Helsinki is the first part of a new concept developed by SSA Group that offers flexible workspace and accommodation solutions for both businesses and individuals. The groundbreaking solution significantly increases the utilisation rate of the building.
Photographs: Studio Martti Järvi, Mikael Linden, Nordtreat
Changes in office work and work-related travel have been taking place for a long time. In 2020, these changes have occurred particularly quickly. The utilisation rate of conventional office space decreases when there is a desire or need for flexibility in many places. In the hotel business, ensuring a high occupancy rate has become a major challenge as travel volumes and priorities have changed.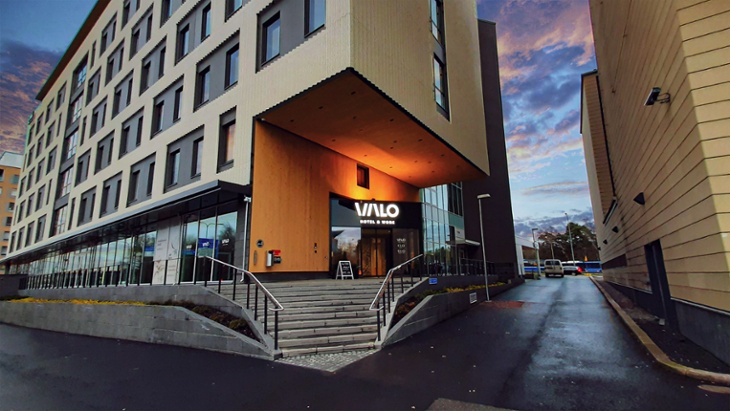 Valo Hotel & Work, Helsinki
There is a demand for new, flexible construction concepts. A competitive solution stands out by combining customer and business needs while at the same time taking environmental considerations into account. The deliberate use of wood in construction is part of this overall change.
A COSY HOTEL, OFFICE HOTEL AND SUPPORT FACILITIES IN ONE PACKAGE



How does Valo Hotel & Work differ from a conventional hotel and an office hotel? It is a genuine and flexible alternative to conventional offices for remote working and multi-location workers. The minimalist Nordic style of Valo is warm and homely. Space solutions and materials were selected for durability, ease of cleaning and care, and environmental friendliness.

The overall design of the Valo Hotel & Work concept is the work of Minna Hurme, an experienced spatial designer. Some rooms are fairly small and have an interior that can be conveniently adapted for overnight stays or office work. The wide range of support facilities available to customers enable both meetings and recreation in a comfortable environment. In addition to flexible meeting, conference and event facilities, Valo has an inviting restaurant, bar and rooftop wellness area with a traditional sauna and relaxation pool.
"The market was ready for new flexible solutions. We provide not only offices but also all the facilities and services that may be needed during the office day – as well as accommodation if desired. We have received praise for our spatial solutions and Valo's invigorating and spacious appearance."
Minna Hurme, Head of Design, Valo Hotel & Work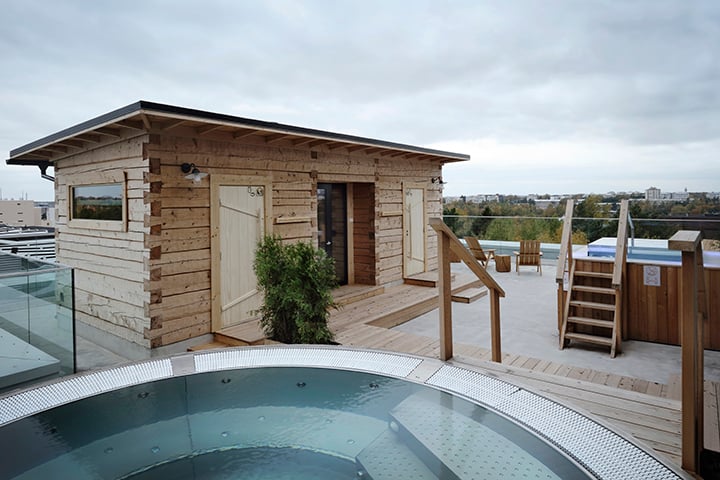 The authentic log sauna is an attraction of the wellness area on the roof terrace.
USER EXPERIENCE, FLEXIBILITY AND RESPONSIBILITY
SSA Group specialises in developing and implementing flexible construction solutions for apartments, supported accommodation, business premises and production and storage facilities. Hannu Riikola, the project manager of the Valo Hotel & Work project, which was completed in the summer of 2020, says that the aim of all the company's projects is to responsibly create an excellent customer experience, both for direct customers and for end customers – the users of the building. Responsibility means that the buildings are made for people, taking into account the environment, quality considerations and cost-effectiveness.

"We aim for attractive and functional solutions that enable the buildings to be in use at all times. This requires open-mindedness and boldness from the different parties involved in the project to adopt new ideas, and a desire for close and flexible partnership."
Hannu Riikola, Unit Manager, Office Construction, SSA Project Oy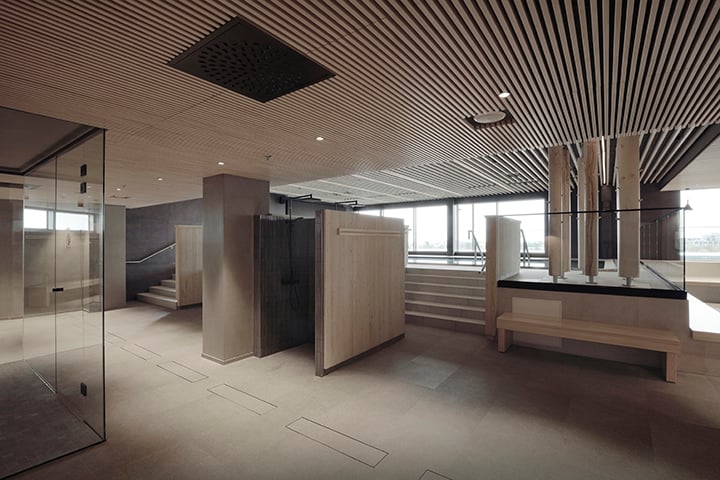 The wood cladding creates a cosy atmosphere in the wellness area.
The Valo Hotel & Work concept was also actively developed during the implementation phase. This was possible because both the developer of the concept and the construction contractor belong to SSA Group. This approach and the carefully conceptualised building technology and functional solutions enable growth and provide SSA's customers with advanced practical solutions.



LOCAL WOOD FOR THE DESIRED ATMOSPHERE
Hurme says that the responsible concept also includes the use of materials produced locally, with small carbon footprints. Renewable wood grown in Finland meets this goal, and due to its close-to-zero CO2 emissions and carbon bound in the material it also plays an important role as part of the attractive and homely interior design.

Fire-retardant Finnish spruce has been used on the facade of the building, amongst other places, and on the ceilings of the hallways of the hotel rooms and in the battened ceilings and panelling of the wellness facilities. The spruce panels and spruce battens are fire-protected with NT DECO with a slightly white tint.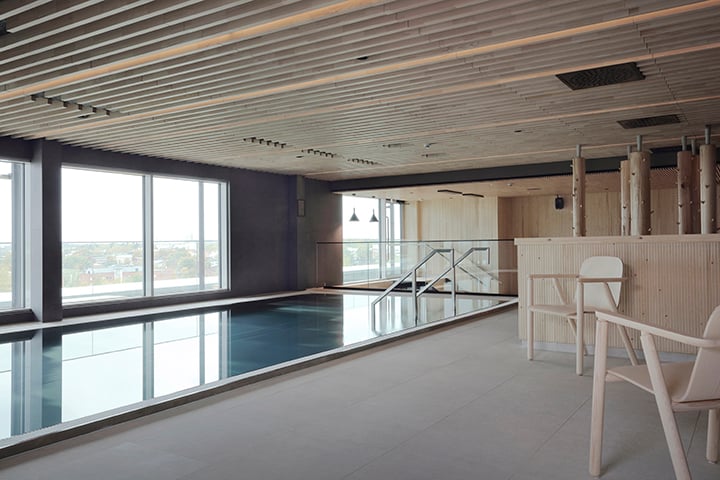 With its minimalist design, the pool area is an ideal place to relax.
According to Riikola, when choosing wooden surfaces it is important to meet official requirements, particularly with regard to fire protection, durability and length of maintenance intervals. In his opinion, the fire protection treatment of log sauna surfaces in particular enhanced the appearance of the building by giving it an appealing patina.

According to Hurme, the wood fits well with the overall minimalist design of Valo. Birch, ash and spruce were all used. It was important that the light-toned and natural surfaces of the wooden surfaces remained visible even after the treatment with fire retardant. "Nordtreat served us very well. They provided tinted samples of fire-protected spruce according to my wishes, so choosing the final shade was easy", she says.

More information:
Valo Hotel & Work
SSA Group
SSA Project