"THE WORLD'S TALLEST STUDENT HOUSING MADE OF SOLID WOOD"
The Norwegian Student Welfare Organisation in Østfold (SiØ) has constructed a unique student home apartment house in Halden, southern Norway. This 16-storey building has an ecological CLT (cross-laminated timber) frame.
Pictures: Stein Johnsen and Firesafe
SiØ is actively creating the best possible overall learning environment at Østfold University College (HiØ). One part of this work is providing great and reasonably priced housing opportunities in Fredrikstad and Halden. Today this includes several CLT apartment buildings, of which the first ones were built already in 2013.
"We prefer CLT in student housing projects, because of the material's great properties. CLT is a relatively light but strong building material made of massive wood. It has excellent environmental, acoustic, indoor air quality and fire resistance values."
Director Rita Hirsum Lystad, SiØ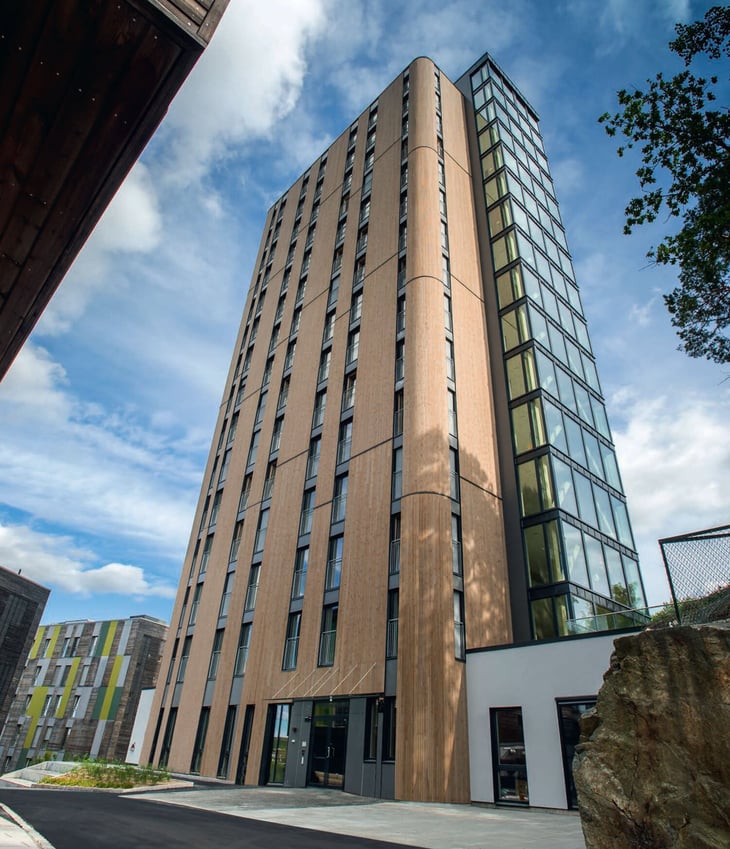 The latest new apartment house was completed in June 2021 and is located in Remmen near Østfold University College, Campus Halden. The 16-storey CLT building was designed by Stenseth Grimsrud Arkitekter and the project was realised by AF Gruppen as a turnkey project.

The building includes 213 student housing properties. This attractive building consists of units with shared kitchens, couple's apartments and units with their own kitchen and bathroom. The views, especially from the top floors of this 50 m high building are great.
FIRE PROTECTION OF CLT COMPLETES THE FIRE SAFETY OF THE HIGH-RISE BUILDING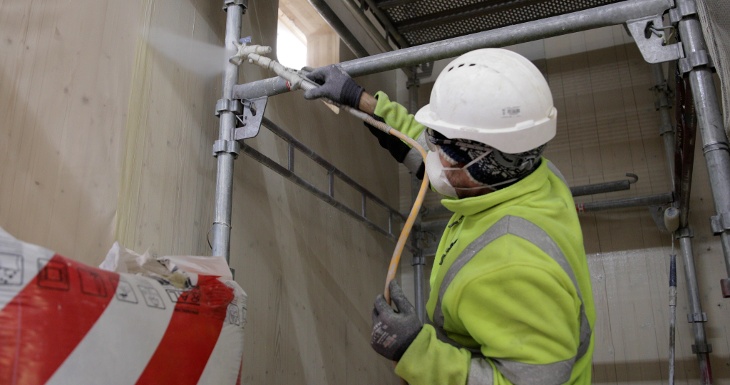 Fire safety is an important part of an apartment house. CLT has great fire safety properties and the building has been equipped with sprinklers. Additionally, the fire regulations demanded that the CLT structures of elevator shafts and corridors needed to be manually fire protected. This work was conducted by Firesafe.




Firesafe is Nordtreat's partner in Norway and provides high-quality fire protection treatments for wood. The treatment meets Euroclass B-s1, d0 requirements. In this project, the CLT surfaces were fire protected with semi-translucent white toned NT DECO fire retardant.
"We have very good cooperation with Nordtreat. Our trained fire protection treater was very pleased to use NT DECO for the first time: the product is easy to apply and absorbed well between the several layers, which are needed to meet the required fire classification".

Technical manager Hallvard Engøy, Firesafe
For wood construction projects, Firesafe provides on-site fire protection of CLT and other wood surfaces. The company provides also consultation for industrial wood products manufacturers who would like to certify their fire protection treatment processes using Nordtreat's innovative and ecological fire retardants.