THE COMMUNITY CENTRE SERVES AS A SCHOOL AND A MEETING PLACE
The Keravanjoki Community Centre, commissioned by the City of Kerava, is to be completed in the autumn of 2021. The construction of the building was realised with the alliance model and adaptability, health factors and low energy costs were key considerations in its design. Wood is used in both the building's facade and interior spaces.

In the alliance model the property developer, designers and builders join together to form the project organisation. In addition to the City of Kerava, the project involved Lukkaroinen Architects, YIT and WSP Finland, among other partners. The fire-protected spruce panels and support structures of the facades were supplied by Koskisen Oy.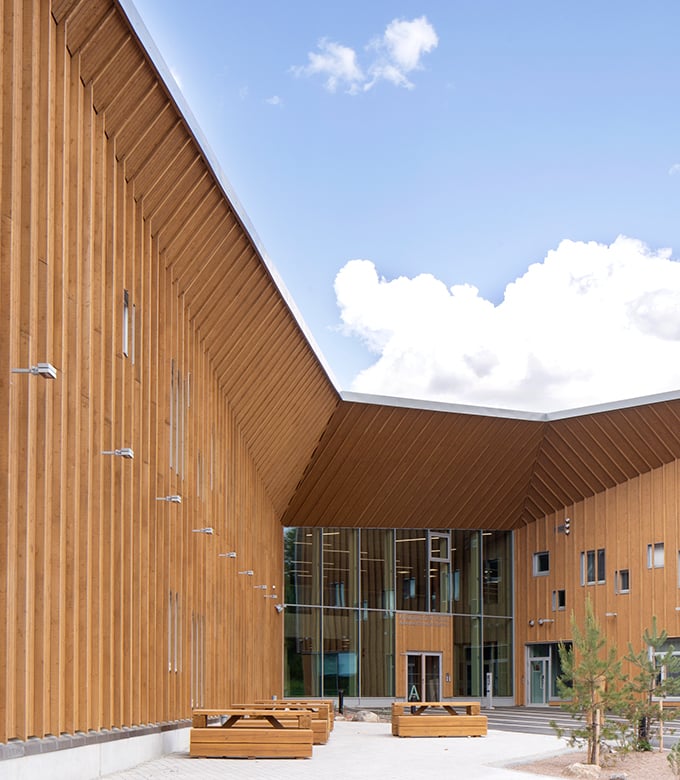 A READILY APPROACHABLE AND VERSATILE PUBLIC BUILDING
A wide range of future user groups were involved in the design of the community centre. This ensured that the facilities could be designed to serve not only as a school and a central kitchen but also as a hobby and meeting place for locals outside of school hours. The learning environments were designed to flexibly support different working methods.

On weekdays, the adaptable facilities are used by the Kerava comprehensive school that will provide learning for some 1 000 pupils. The central kitchen can prepare as many as 3 000 meals per day. In the evenings, the interior spaces and yard areas serve various hobby groups and allow locals of different ages to come together in a natural way.
THE WOOD CLADDINGS OF THE FACADES WERE FIRE-PROTECTED WITH HUED NT DECO
The impressive entrance to the community centre is partially roofed. The large surfaces of the facade's vertically installed exterior cladding panels are allowed to come to their own in a tremendous way.

The thicker than usual 28 x 95 mm UTS panels with grooved and tongued ends were fire protected at Koskinen's factory using translucently toned NT DECO flame retardant. The fire-protected support structures required by the panels were also treated and delivered by Koskisen. The products fulfil the requirements of the fire class B-s1, d0 in accordance with the SFS EN 13501-1 standard.
"The quality of our products is crucial for our competitive edge. Our fire-protected products have a Euroclass fire rating and CE certification. This was the first target that we supplied with products that were fire-protected using NT DECO. Nordtreat's precise consumption counter was very accurate, and we received excellent on-site technical support for our first time using this product."

Argo Vinkman, Department Manager, Saw and Log Sorting, Koskisen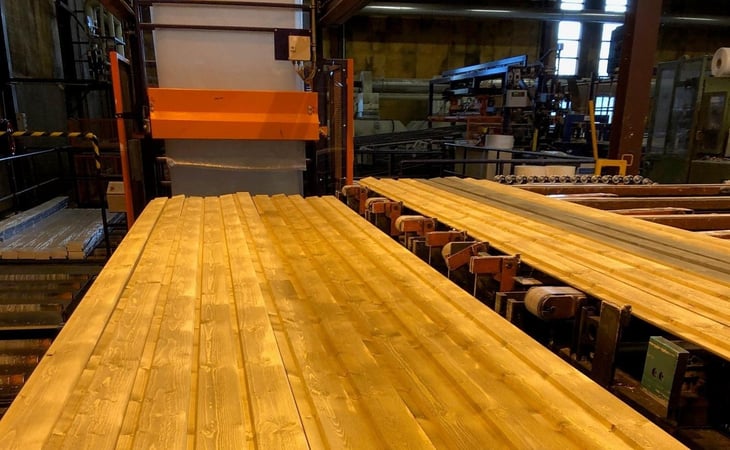 Panels fire-protected using NT DECO at Koskisen's factory.
Koskisen is an internationally operating family company with an extensive history that specialises in high-quality speciality products. In addition to lumber and its derivatives, such as surface-treated panels, the company also manufactures plywood boards, chipboards and speciality veneers, among other products.

The demand for wood products is constantly on the rise, which also increases the demand for fire-protected products. Koskisen's fire-protected wood products are currently shipped to public building projects in Finland as target-specific deliveries.
"We like to develop new surface-treated products and their industrial processing methods in cooperation with production and sales departments and product manufacturers. We have been in communication and cooperation with Nordtreat for a good while now and everything is very smooth."

Argo Vinkman, Department Manager, Saw and Log Sorting, Koskisen

Koskisen has recently introduced a new planing line and is also planning to build a new sawmill in Finland.