THE WORLD'S TALLEST CLT BOX ELEMENT BUILDING STANDS IN ESPOO, FINLAND
Commissioned by the Helsinki Student Housing Foundation HOAS, the 13-storey apartment block HOAS Tuuliniitty is located in Espoo's Tapiola neighbourhood in Finland. It is the tallest building built entirely out of CLT box elements to date. All of the box elements were manufactured by Elementti Sampo from Kuhmo.
Tuuliniitty is the first wooden apartment block built by HOAS. It allows students to live ecologically in a modern wooden building. Massive wood structures keep the carbon of the wood stored throughout the building's lifespan. The popular CLT, or Cross-Laminated Timber, also boasts other features that make it an ideal material for housing construction.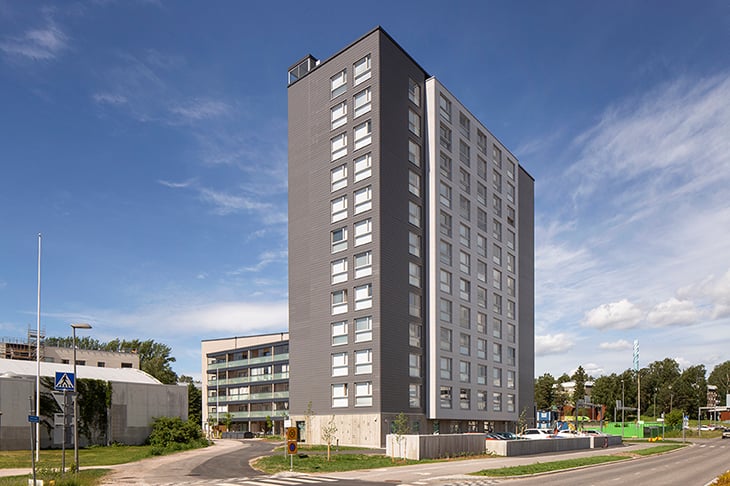 13 STOREYS REQUIRED THE DEVELOPMENT OF AN ENTIRELY NEW STRUCTURE SYSTEM
The centrally-located tall building respects the spirit of the Tapiola neighbourhood, known for its garden atmosphere. HOAS Tuuliniitty has 13 stories and out of its 165 student apartments, 154 are studios and 11 are family apartments. The main architect of the building – set to be completed in the summer of 2021 – is Jukka Turtiainen from Arkkitehtipalvelu while JVR-Rakenne served as the project's main contractor. Engineering firm A-Insinöörit was responsible for structural design.

Designing a CLT element building that was significantly taller than usual offered an interesting challenge. When sizing a building this tall, special attention must be paid to frame vibrations and technical aspects related to sound insulation and fire protection. The stability of the frame was ensured by developing a structure system appropriate for this target, complete with junction details. This new system can be used in future box element projects.
"This was a fantastic project. Tight cooperation between all parties and partners was crucially important. We have received positive feedback from both HOAS and the tenants of the building."

Head of Sales and Development Sauli Ylinen, Elementti Sampo

CLT BOX ELEMENTS CONTAIN ALL YOU NEED
Elementti Sampo is Finland's largest manufacturer of ready-made elements for wooden apartment buildings. Their product selection contains wooden CLT box elements and other CLT elements (walls, floors, balconies, etc.) for use in apartment buildings.

Currently, the company is delivering CLT elements at a rate of 400 apartments per year. Large demand is quickly driving up production. Usually, a building made of CLT elements is 4–8 stories tall. The total construction time of a building this size is 6–8 months as the box elements can be manufactured simultaneously as the foundations are laid.

CLT box elements enable maximum utilisation of wood in construction in an environmentally sound manner. The load-bearing frame is made of carbon-storing massive wood. The bare wooden surface – aesthetically pleasing and acoustically excellent – can be left visible on interior surfaces within the limits defined in building regulations.
"Even though we are talking about efficient and standardised modular construction, we are able to realise diverse, high-quality architecture that blends perfectly into the urban environment. With box elements, construction is controlled and quick, which also makes it a cost-effective construction method in dense urban areas."

Head of Sales and Development Sauli Ylinen, Elementti Sampo
The box elements manufactured at Elementti Sampo's factory contain all the necessary features, including interior and exterior surfaces (incl. wet areas), fixtures, electrical work and even household appliances. However, in the case of HOAS Tuuliniitty the facade was installed on the construction site.
FIRE PROTECTION OF CLT ELEMENTS IS PART OF THE QUALITY SYSTEM
CLT surfaces that require fire protection are already treated at Elementti Sampo's factory. The fire protection treatment is done on a workstation separated from the production line according to the company's quality system. This ensures that enough of the protective agent gets spread and the amounts and drying times can be documented precisely before the box elements are assembled.
"We have been using Nordtreat's transparent flame retardants for a long while now. Their products that meet the requirements of fire class B-s1, d0 fulfil our needs and the customer service is flexible. It is nice to use a familiar and safe product."

Head of Sales and Development Sauli Ylinen, Elementti Sampo

In a CLT box element building, fire protection is typically required for the surfaces of interior staircases, hallway pillars and elevator shafts. HOAS Tuuliniitty's stairway structures and stringers were treated with Nordtreat's transparent NT DECO flame retardant.