1. WHY FIRE-PROTECT CLT
CLT elements have very good and predictable fire resistance properties. To fulfil building code requirements the fire resistance of a load-bearing CLT element is usually calculated with the combustion rate given in the relevant standards (such as Eurocode 5). In case of a fire, the CLT elements will maintain their structural integrity within for a calculated duration.
A flame retardant treatment is often required additionally, as it helps to prevent ignition and slow the spread of fire from one element to another or over larger surfaces. Nordtreat's NT DECO flame retardant improves the reaction to fire performance of the CLT elements and contributes to the fire protection and the safety of the building. As a result, CLT elements treated with NT DECO achieve a reaction to fire class B-s1, d0.
As CLT is widely used in large-size and multi-storey buildings like apartment buildings, commercial premises and public buildings, there is a need for reliable fire protection of the CLT elements.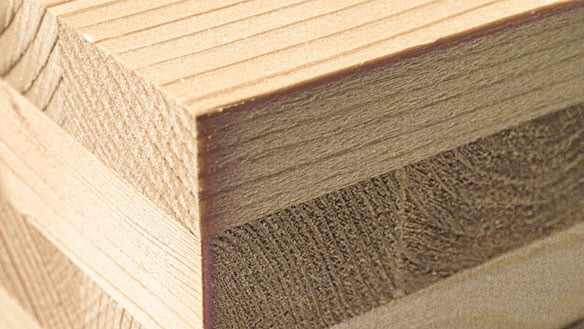 B-S1, D0 COMPLIANT
Reaction to fire performance to meet B-s1, d0 (EN 13501-1) requirements
LOW VOC EMISSIONS
Good interior air quality thanks to very low VOC emissions
BUILDING EFFICIENCY
Economical structures: no need to cover CLT elements with gypsum boards
DURABLE
FIRE PROTECTION
Durability in interior use: maintenance treatment is needed only if CLT surface is scratched
NATURAL
LOOK & FEEL
Beautiful wooden surface can be left visible with clear or natural toning
INDUSTRIAL & ON-SITE TREATMENT
Fire protection can be made industrially or manually on-site
Bio-based fire protection of interior CLT
The good properties of CLT structures should not be compromised with coatings or treatments that contain harmful substances, generate emissions to indoor air or are non-recyclable.
Cross-laminated timber manufactured according to EN 16351 has been classified to meet reaction to fire class B-s1, d0 according to EN 13501 when treated with NT DECO. This means that our flame retardant solutions are ideal for fire-protecting interior CLT structures. Besides a certified reaction to fire performance according to Euroclass B-s1, d0 requirements, our bio-based solutions feature low indoor air emissions with proven records.
Sustainable CLT is manufactured from renewable wood, and in buildings, it acts as a carbon sink. Treatment with bio-based flame retardant enhances the safety of CLT buildings and is in line with the sustainability and breathability of the CLT structure.
NT DECO has a published EPD, and comparisons of the Co2 print of NT DECO treated CLT and gypsum sheeted CLT are available at request.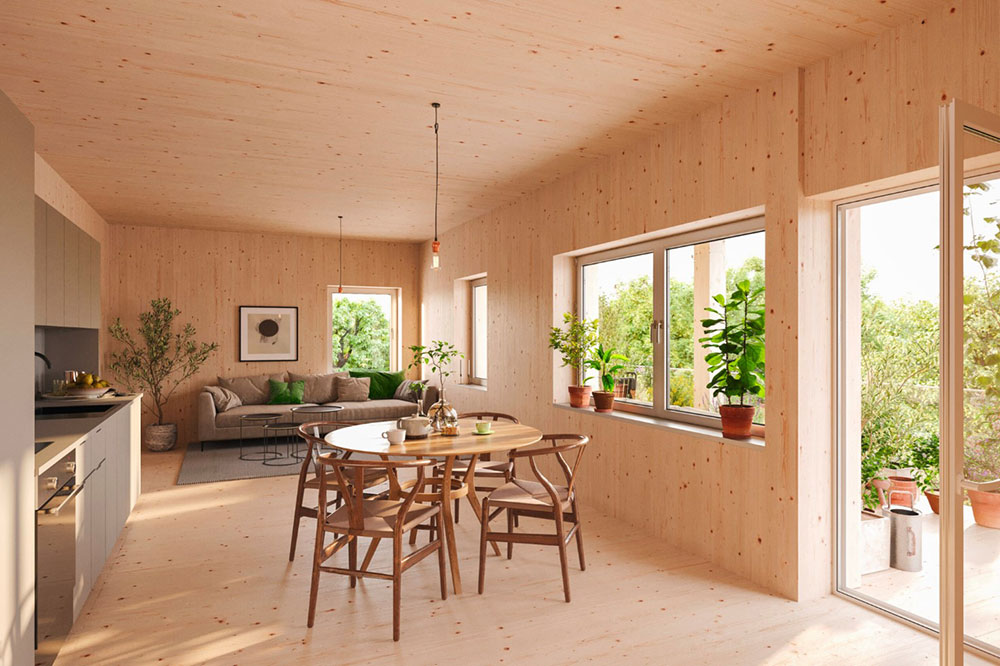 3. NT DECO FLAME RETARDANT IN A NUTSHELL
NT DECO flame retardant is a safe, ecological and durable solution for fire-protecting interior CLT made of spruce with a thickness of 90 mm and more.
CLT elements and boards treated with NT DECO flame retardant preserve their natural character and remain fully recyclable.*)
Bio-based, water-based and pH-neutral solution
A one-product solution – no need for additional primers or coatings
Suitable for spraying and brushing all sides of CLT elements/boards
Clear or natural translucent colours
KIWA-certificate 12093-2
You will find more information about NT DECO flame retardant, including technical datasheet and material safety datasheet, on NT DECO product page:
*) Please check with your local authorities about the recycling of wood products.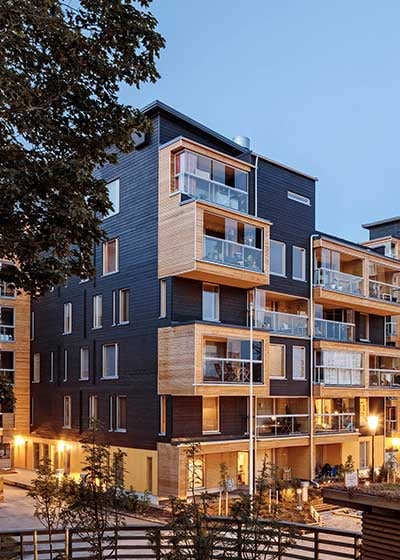 ESKOLANTIE APARTMENT BLOCKS
Location: Helsinki, Finland
Fire protected: CLT elements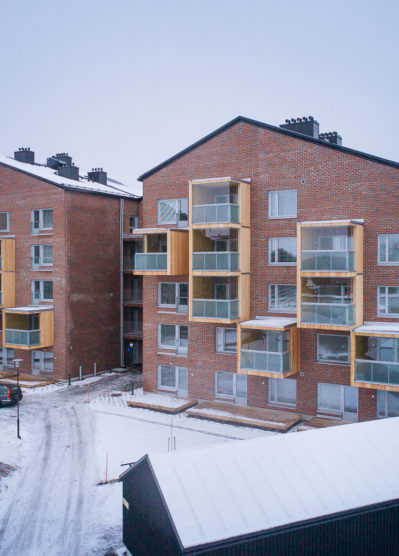 RIIHIKARTANO APARTMENT BUILDINGS
Location: Seinäjoki, Finland
Fire protected: CLT balconies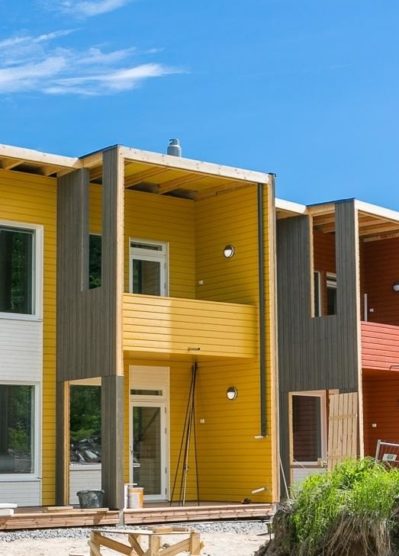 RESIDENTIAL BLOCK HAAPAPERHOSENPOLKU
Location: Helsinki, Finland
Fire protected: CLT elements
4. REACTION TO FIRE PERFORMANCE OF CLT
The reaction to fire performance of NT DECO treated CLT has been classified as B-s1, d0 according to EN 13501-1. The tested CLT structures were 90 mm thick and made of spruce. The visible surfaces were treated with 350 g/m2 of NT DECO flame retardant.
Concerning solid wood elements, the product can be classified according to the product standards prEN 16351:2018 (CLT).
CLT is regularly manufactured according to the European standard EN 16351. Many of the manufacturers still hold European Technical Assessments (ETA) as approval for the use of CLT in building and construction from the time before the harmonization of the standard. Either the EN or the ETA is the basis for the CE marking of the CLT.
The Euroclass B-s1, d0 certification is valid only when the CLT has been treated according to the instructions of Nordtreat and when the treatment is duly documented.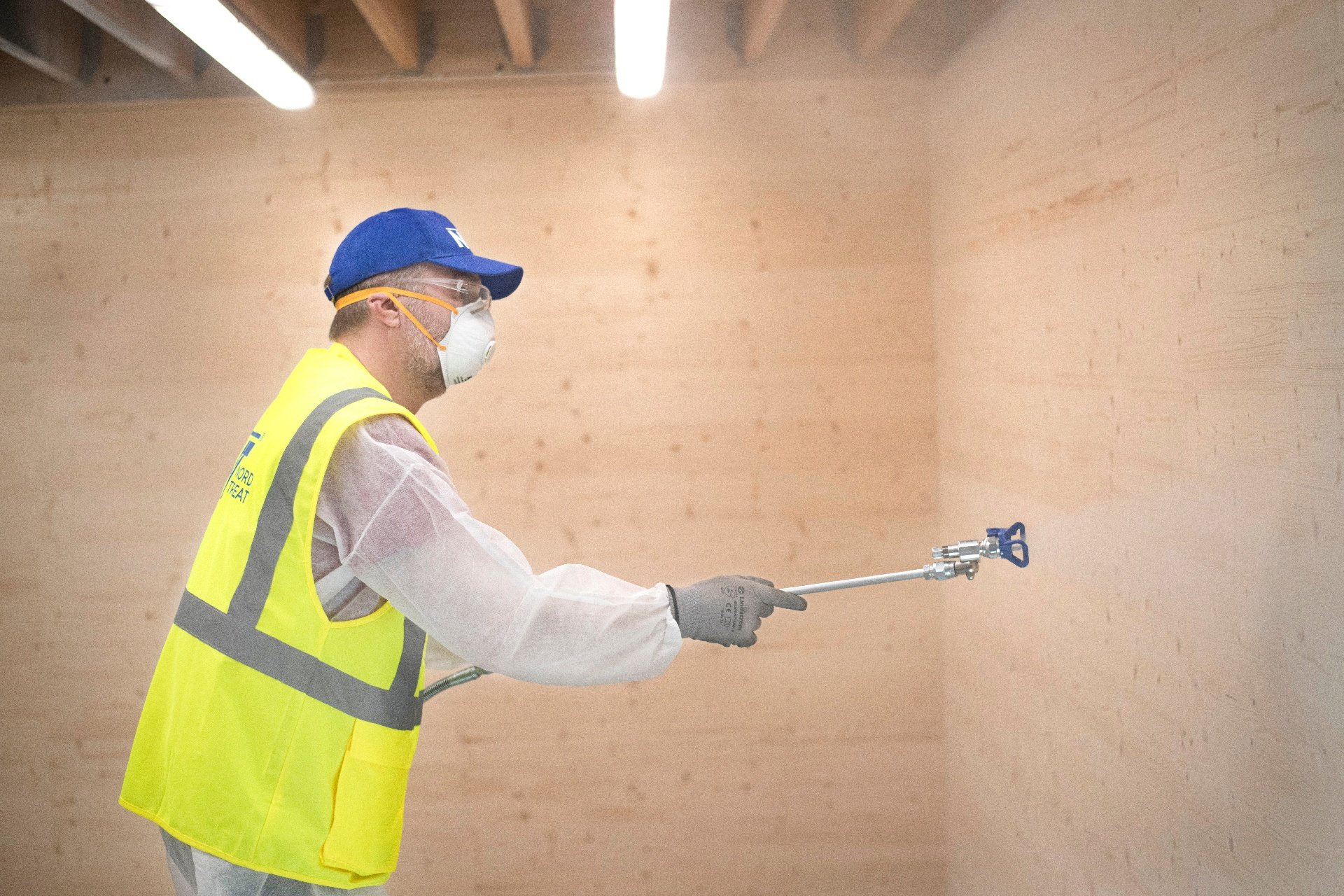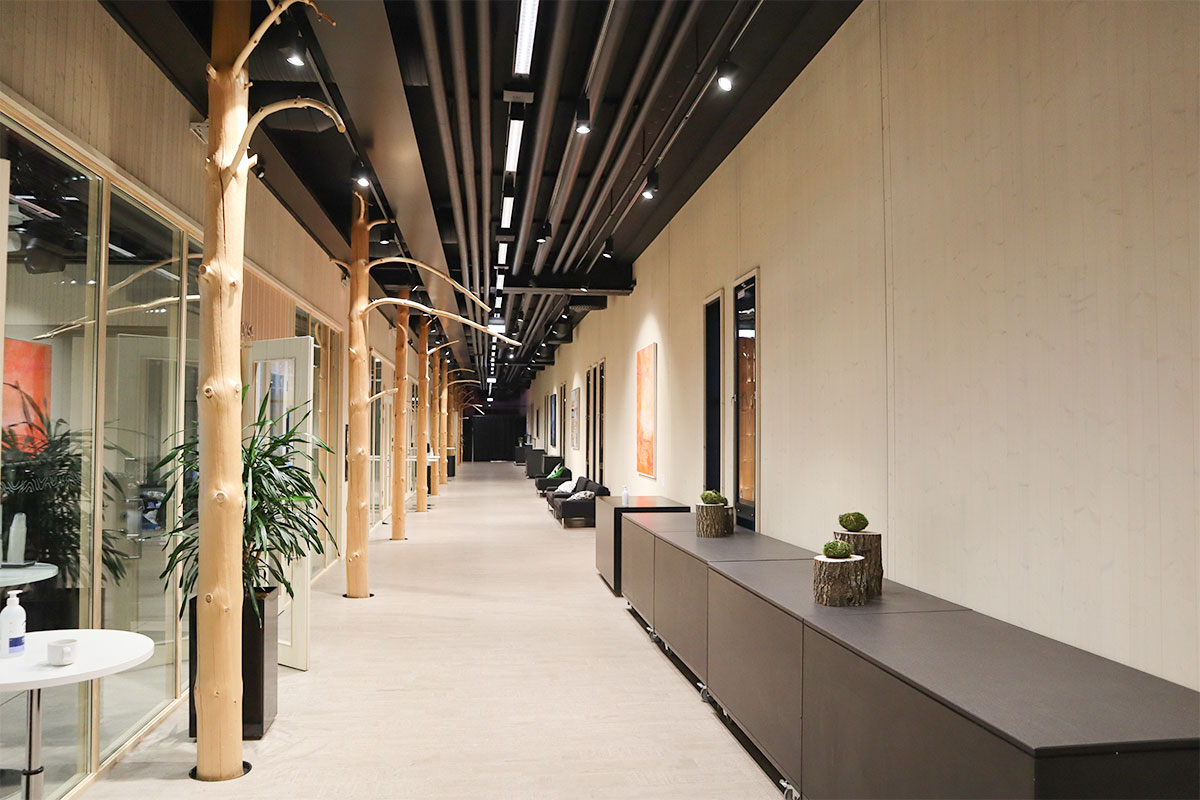 5. INTERIOR AIR QUALITY OF FIRE-PROTECTED CLT
CLT structures typically include interior walls and ceilings, staircases, lift shafts, suspended balconies and entrance roofs in multistorey apartment buildings. This is why the fire protection solution should be safe for people and the environment.
As all Nordtreat solutions are bio-based, water-based and pH-neutral, they also feature low indoor air emissions. NT DECO flame retardant holds A+/M1 emission class certificates.

FIRE PROTECTION OF CLT UNDER THE MANUFACTURER'S CONTROL
The off-site fire protected CLT element treatment (Euroclass B-s1, d0) must be done according to Nordtreat guidelines by the manufacturer himself or by a third party under manufacturer's control in his premises.
CLT and log wall manufacturers have guidelines in place to ensure the required fire protection treatment.

ON-SITE FIRE PROTECTION OF CLT
CLT elements can be fire protected in accordance with Euroclass B-s1, d0 also outside the control of the manufacturer either in a treatment facility or on-site once posed or erected. In such a case, the treatment company is responsible for the documentation towards the building authorities.
Nordtreat strongly recommends using a flame retardant treatment partner that is trained and approved by Nordtreat.
8. DURABILITY AND MAINTENANCE OF CLT FIRE PROTECTION
Fire protection with NT DECO flame retardant is a reliable, sustainable and cost-efficient solution. The required amount of the semi-translucent flame retardant is protecting the wooden surface not only against the spread of fire but also gives protection against wear and use traces that usually occur in the use cycle of a building.
In indoor conditions, no maintenance service is needed if the treated wood surface is not mechanically damaged. When needed, the maintenance treatment should be done with the same flame retardant product that was originally used.