BRAND COLOURED AND FIRE PROTECTED VINEYARD PREMISES
Caveau de Lillet is a famous winery in Podensac, France. The large premises have now beautifully toned and fire protected wood cladding. Finso treated the cladding panels made of Douglas fir with Nordtreat's flame retardant NT DECO.

The history of Caveau de Lillet started in 1872. It is a family business producing well-known wines and cocktails, known for their taste and red-colour branding. For example, the famous apéritif Lillet delights people around the world.

BRANDED AND FIRE PROTECTED WOOD CLADDINGS


The new production and storing premises were finished in 2022. It was clear, that the cladding colour should be red, reflecting the brand of Lillet. Industrial buildings need to be fire safe, so Finso delivered brand-coloured cladding panels treated with toned NT DECO flame retardant.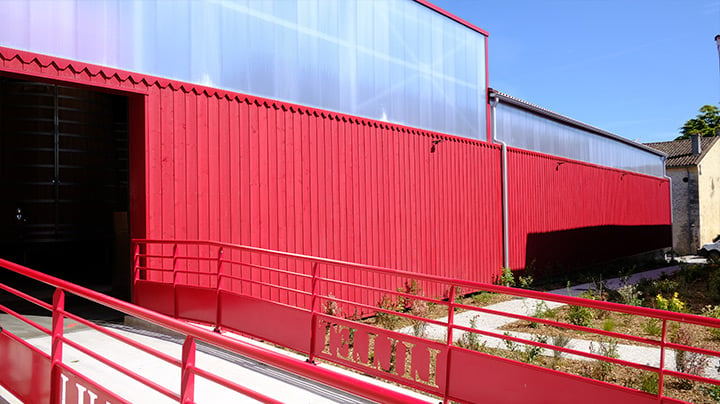 Finso is happy with the customer service of Nordtreat. The cooperation has evolved over the years:
"Nordtreat listens to our technical and commercial requests. The quality of the treatment is excellent and there have been no incidents or other problems."
Franck Desplat, Manager, Finso



SUSTAINABLE FIRE PROTECTION FOR VINEYARD BUILDINGS


In terms of both quality and quantity, France is one of the most important wine-growing regions in the world. Famous grape and wine varieties have their origins here. France is the largest wine producer in the world. Around 59,000 wineries produce about 50 million hectolitres of wine on 867,400 hectares.

Many of the wineries are family-owned and have a high demand for quality and naturalness and sustainability of the products used in connection with the buildings of the wineries. Nordtreat supplies NT DECO, an ideal product for environmentally friendly fire protection of the wood products used in wineries.